All the rumors were true. Apple has a fancy headset it wants to sell you. The tech giant revealed its new mixed reality / virtual reality headset during its June 5 WWDC digital event, confirming the details of previous leaks. Dubbed the Apple Vision Pro, the new "facial computer" is out "early next year" and will cost over $3,000.
The Week In Games: What's Releasing Beyond Diablo IV
During today's Worldwide Developers Conference—Apple's annual event where it talks about its future plans and updates—the iPhone maker announced its new mixed reality / virtual reality headset, the Vision Pro. The new headset features impressive specs, but you better be ready to pay a lot for this advanced piece of hardware.
Apple
The Vision Pro is controlled using your hands, eyes, and voice. Apps and videos will appears to exist in the real world using the headset's advanced augmented reality tech, which lets it overlay computer visuals over a real-time camera feed. Apple also showed off how the headset can immerse you in fully digital environments like a typical VR headset, letting you watch Ted Lasso in the middle of space, for example.
The unusual features in Apple's first VR headset
An interesting feature called "EyeSight" shows your eyes to other people when they get close, via internal cameras feeding an OLED display on the front of the unit. But if you're in the middle of an immersive game or app, the front display makes that clear to other people, letting them know you are busy. However, at any point, Apple says you can see through apps to see other people in the room, helping to make you feel less isolated when using the new headset.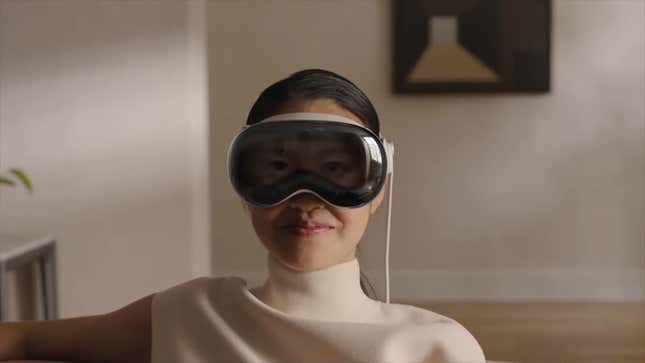 The Vision Pro has 12 cameras, five sensors, and six mics. It also features Apple's first 3D camera, letting you capture "spatial photos" that will let you see more of a photo by moving around or manipulating the image. It will feature eye tracking, a feature currently limited to only the highest-end VR headsets, and a system called Optic ID that allows you to log into the device and other services by scanning your retina.
Apple showed how you'll be able to play many of the games on Apple Arcade in the headset using a large, virtual screen in your living room via augmented reality. The Vision Pro does use an external battery, which Apple says helps keep the device lightweight. The battery life is only about two hours. The company also says each eye has its own advanced screen that each provides more pixels than a 4K TV. This new headset is powered by a new chip, the R1.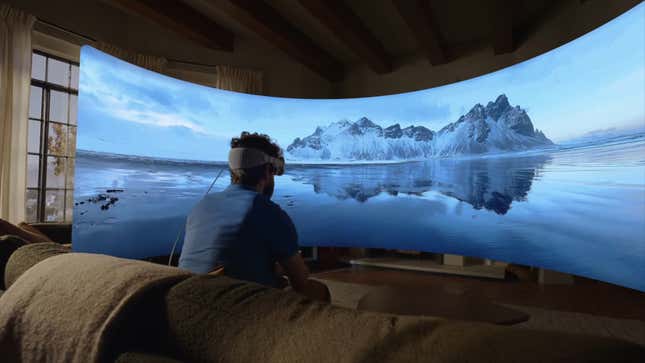 The Vision Pro will thankfully support most iPad and iPhone apps. Apple is also working with Unity to make it easy to convert Unity-built games and apps to the new headsets operating system. The Vision Pro will have its own, new app store that will contain all apps Apple certifies as compatible with the new headset, and presumably subsequent ones.
The Vision Pro's price starts at an eye-watering $3,499, and it has a release window of "early next year." More as it comes.